Hakone Kowakien Yunessun is a spa resort that anyone can enjoy. Here are some recommendations tailored to
different groups of visitors.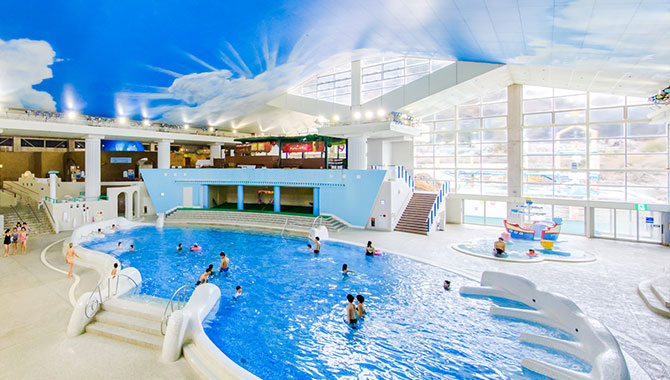 Families
Family members of all ages will enjoy our traditional hot spring baths, unique bathing experiences and facilities
with child-friendly features.
Recommendations
Unique colorful baths

Both children and adults love our unusual hot spring experiences, including a vibrant baths containing authentic wine and coffee.
Fun for little kids

Small children can play in shallow 30cm hot spring bath while parents relax with peace of mind. Swim diapers are available at our shop.
Time to rest

After playing to your heart's content, spend the night at one of our neighboring hotels.
It's a great way to enhance a leisurely Hakone stay.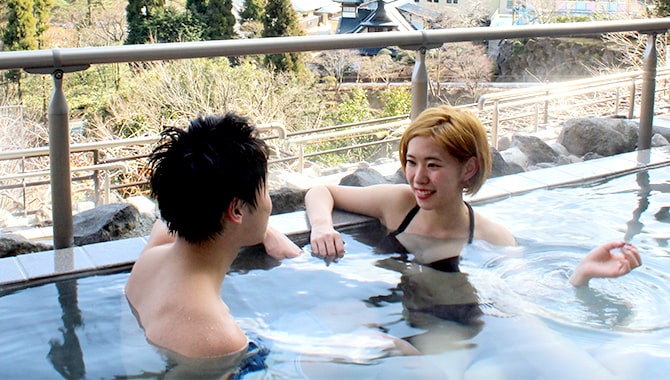 Young couples
Enjoy a special date with someone you like. Relax together in hot spring baths, try a soothing massage and stay at a nearby hotel. There's no better way to experience Hakone.
Recommendations
Date in swimwear!

Share various hot spring experiences in your bathing suits, including a refreshingly scenic outdoor bath, sophisticated sake bath and smaller tubs for closer conversation.
Eat and drink in style

Our restaurants and cafes offer everything from snacks to casual dining and Japanese dishes to match your mood and appetite. Take your time and enjoy the gorgeous views.
Spend the night and explore the area

There's plenty to see in the Hakone area. Why not stay at one of our hotels and explore the local sights after relishing our hot springs.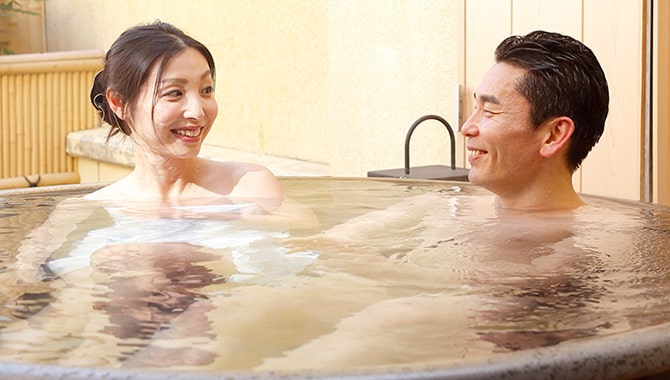 Couples
Leave the hustle and bustle behind and relax in healing, rejuvenating Hakone hot springs. Share a special time and make new memories.
Recommendations
Unwind in hot springs

Soak up the atmosphere of traditional Japanese hot spring baths including a large open-air bath with picturesque view of the Hakone mountains, a bath made of traditional Japanese pottery and an aromatic cypress bath (female area only).
Relax at restaurants

Snack and dine at various Hakone Kowakien Yunessun restaurants. Enjoy everything from casual fare to Japanese and Italian cuisine after warming up in our hot springs.
Just the two of you

Reserve a room with private baths to spend quality time together. Each room has indoor and semi-outdoor baths as well as an area for lounging.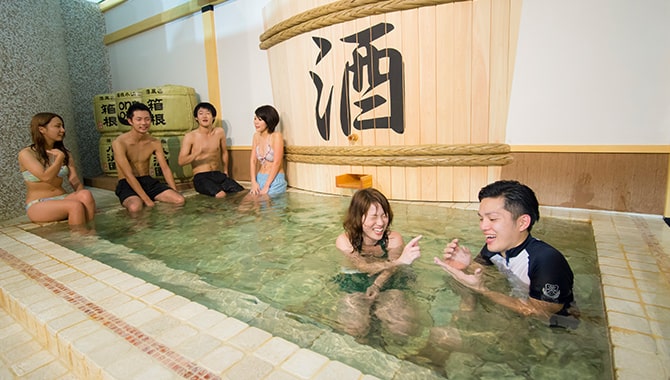 Friends
Hakone Kowakien Yunessun is a great choice for groups of friends visiting Japan from abroad. Have fun experiencing something authentically Japanese together!
Recommendations
Soak in swimsuits

Share various types hot spring experiences in Japan to make memories that deepen friendships and last a lifetime.
Total relaxation!

Leave the guys behind and enjoy a full day of fun with the girls. Luxuriate together in the warmed stone corner and aroma room. Chat, dine and drink as much as you like!
Fun photo opportunities

Take share-worthy photos of yourselves in unique places like the wine bath and coffee bath. Show friends back home immediately through your favorite SNS!